June 2017 | ARRIVAL SURVIVAL GUIDE
YOUR SOURCE FOR "INSIDE" INFORMATION ABOUT MOVING INTO THE RESIDENCE HALLS
Welcome to Marquette!
The Residence Life staff and the entire Marquette University community are looking forward to your arrival on campus for the 2017-2018 academic year!

We are dedicated to helping make your stay in your residence hall a positive part of your experience at Marquette. Below you will find some helpful hints and answers to some frequently asked questions.
When can you move into the halls?
Residence Halls open for incoming students only on Thursday, August 24 at 8:00 a.m. In order assist with the move-in process, we have set up an arrival schedule for the specific floors in each building over a two day period - all incoming students (freshmen and transfers) will be given arrival times on Thursday.

It is our plan to give priority for carts and use of the elevators to the residents of the designated floors. Times are posted on our website.

Halls open for returning students on Saturday, August 26 at 8:00 a.m. Arrival schedules will also be set for returning student move-in, Saturday and Sunday.

Our maintenance, housekeeping and residence life crews are working hard to get the buildings and rooms ready for your arrival, so early move-ins for are not possible.

Here are some helpful hints for a smooth move-in day:
• Bring your own Dolly/Handtruck - we have a limited number of carts and one may not be available when you need it.
• Wear comfortable shoes - there will be lines at the elevators so you may want to take the stairs.
• Sign-up for Early Drop Off (space is limited)
• Bring your Health Insurance Card - we will need this information to complete your Personal Data Card at check-in.
What is Early Drop-off? When is it?
Between Sunday, August 20 and Wednesday, August 23, students are able to take advantage of our early drop off policy in order to reduce the crowds of people on move-in day. Students may drop their belongings in their residence hall room* between the hours of 10 a.m. and 4 p.m on Sunday/Wednesday and 1 p.m and 4 p.m. on Monday/Tuesday.

If you would like to take advantage of this, you will need to contact the Office of Residence Life beginning Monday, June 12 at 414-288-7208 to schedule an appointment for your drop off. There is limited space for each time slot and appointments will be scheduled on a first-come first-served basis. You don't need to call right away, but don't wait until August to sign up!

When you call to make your appointment, you will receive a confirmation number for your one hour time slot. Please bring your confirmation number and photo ID with you to your appointment. Only one time slot is allowed per student.
Please note: this convenience is offered so that you can drop off your belongings - you will not be able to unpack or arrange your room at this time.

*Schroeder Hall will not offer Early Drop-Off due to the fact that Fall Orientation Programs are housed in Schroeder.
What furniture is in your room?
A twin bed, dresser, desk and desk chair, mirror, study lamp, curtains and mattress cover for each resident.
All beds are extra long twin (36"x80"). We have provided information on our linens program if you need to purchase sheets to fit our beds.
Your hall also has a laundry facility. Laundry machines accept coins and/or Marquette CASH.
What should you bring with you?
For your beds, we recommend that you bring extra long twin sheets, blankets, bed spread, pillow and pillow case.
The Residence Hall Association sponsors a Linens Program designed for these beds - click here for information on this program.
• For bathrooms, we suggest towels, wash cloths, buckets, robes, shower shoes and other toiletries. Marquette University custodial personnel clean the common bathrooms. Students with private bathrooms are responsible for cleaning their own personal baths.
• The following electrical devices are acceptable:
hair dryers, electric shavers, curling irons, small microwaves (6 amps, 800 watts) refrigerators (no larger than 4.6 cubic ft.), televisions and personal computers.
• Don't forget your cell phone. Phone lines are not provided in the residence hall rooms.
• Basic cable service is provide by Marquette University. Televisions and cable cords are not provided.
• If you have been assigned a roommate, we encourage you to contact him/her. They may already have some of the items you want to bring.
Please do not bring these items:
• Toasters, deep-fat fryers, ovens, hot plates, power tools, camping stoves, George Foreman style grills, charcoal grills or anything with exposed coils or an open flame are not allowed.
• Subwoofers and amplifiers for electric guitars or other instruments and drum sets are not permitted.
• Torchier style halogen lamps are not to be used in residence hall rooms as they have proven to be a serious fire hazard.
• If you bring a refrigerator, it must not exceed 4.6 cubic feet.
Please contact our office if you have any questions.
Do you need a loft in your room?
Students assigned to Abbottsford Hall, Carpenter Tower, Cobeen Hall, Mashuda Hall, McCormick Hall, Schroeder Hall or Straz Tower have "loftable" furniture which can be arranged in a variety of ways - you do not need to rent a loft for these buildings.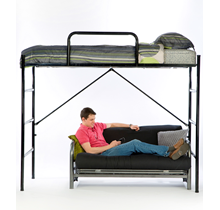 Students are allowed to rent lofts to modify rooms that contain traditional bunked beds in O'Donnell Hall.
Bed lofts are an easy, affordable way to create additional living area in the room.
Students in Humphrey Hall have furniture that can be bunked, but rented lofts are not an option.
For information on bed loft rentals, click here.
MicroFridge Rental Information

The MicroFridge is a one-of-a-kind unit that includes a full refrigerator, freezer and microwave – all-in-one! This is a convenient alternative to bringing a refrigerator and microwave from home and is a must-have item for students attending Marquette from far away or out-of-state.
Order your products by AUGUST to guarantee FREE delivery to your room before move-in day! It is one less large item to pack, making move-in day MUCH easier and less stressful!
Bedloft.com is endorsed and approved by Marquette University. To place your order, visit www.bedloft.com.
Bed Bath & Beyond Pop-Up Shop
Bed Bath & Beyond is partnering with Marquette University to sponsor a Pop-Up Shop during move-in, conveniently located at 13th Street across from Schroeder Hall.
Can you switch rooms or halls?
Marquette residence halls are completely full at this time so room and hall changes are very difficult, as we simply do not have space to make moves.
If you wish to be placed on a waiting list for a specific building, submit your request here.
How do you protect belongings?
Marquette University is not responsible for theft, damage or loss of valuables, money or property belonging to students.
We strongly recommend that you insure your personal property while at Marquette, either through your parents' home owners insurance policy or by purchasing separate property/renter's insurance.
We also encourage you to inscribe your name on valuables before your arrival. Once you are on campus, you will have access to an engraver through the Department of Public Safety.
Should you bring a car to campus?
Although students are permitted to have cars on campus, parking space is at a premium. On-campus, overnight parking is limited and off-campus parking is very expensive. Please check with Marquette Parking Services at (414) 288-6911 for further information.
Do you need medical insurance?
Full-time undergraduates pay a per-term health fee that entitles them to benefits of Student Health Services. For additional information on health services, visit www.marquette.edu/shs.
What do you need in case of an emergency? The hospital in the area requires that students have a medical insurance card or a copy of it to present upon admittance. Remember to get one from your parents and bring it with you in the fall.
Do you need to bring a computer?
Every student living in a Marquette university residence hall is provided a high speed internet connection to the campus network. In addition, all the residence halls have wireless connectivity. Students are not required to have their own computer as Marquette offers many computers for student use which are available in the residence halls and other locations across campus.
To view a list of labs, including available software and hours of operation, please visit the IT Services website.
Students are encouraged to bring a computer to campus and should contact the IT Services Help Desk (414-288-7799) with any questions regarding minimum recommendations.
Students have the option to purchase Microsoft Office and other software at deeply discounted prices via the Marquette web site.
Meal plan information
For information on your Anytime Dining meal plan, visit us online or contact our office.
IMPORTANT DATES
Thursday, August 24, 2017: Residence halls open for the fall semester for incoming students

Saturday, August 26, 2017: Residence halls open for the fall semester for returning students